STREET ART                            
Thanks to the Bukruk Urban Arts Festival in 2013 and 2016, STREET ART suddenly became popular! Thai and international artists came to paint murals all over Bangkok but Charoenkrung Soi 32 was the center of action and Soi 30 and 28 feature massive projects too!.
WAREHOUSE 30, has entrances on Soi 30 and Soi 32 so some of the best work is just a few steps away
SOI 30
At the Soi 30 entrance to WAREHOUSE 30 you will see Stan & Lex Wall, one of two massive works on this soi. Stan & Lex, two internationally acclaimed Italian artists were hoisted by crane to do their intricate stencil work which adorns the facade of an entire building. Their abstract work reflects the tangled electrical wires that have become an iconic symbol of modern Bangkok!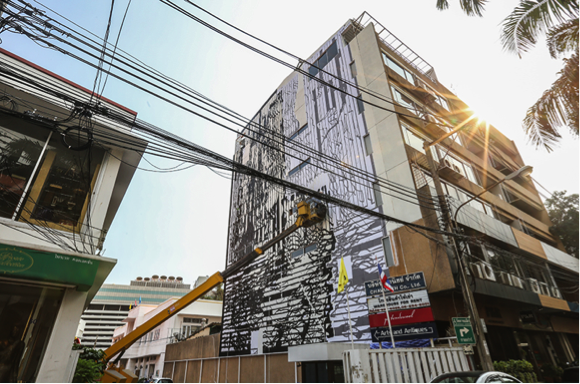 Vhils
The second massive work is just around the corner. Scratching the Surface, on the front wall of the Embassy of Portugal is a stunning wall carving by renowned Portuguese artist Vhils. His works tend to reflect on emotion, identity and the notion of cultural uniqueness, exactly right for the Embassy .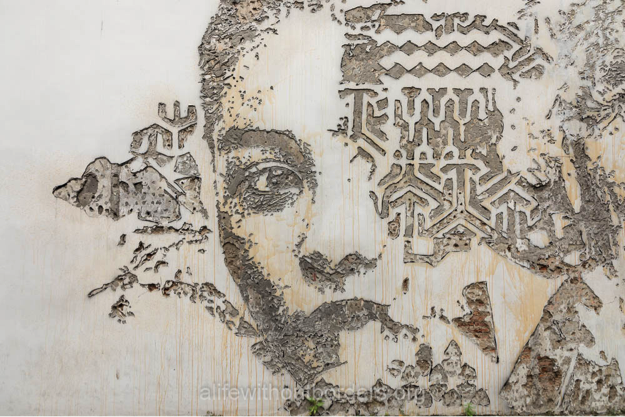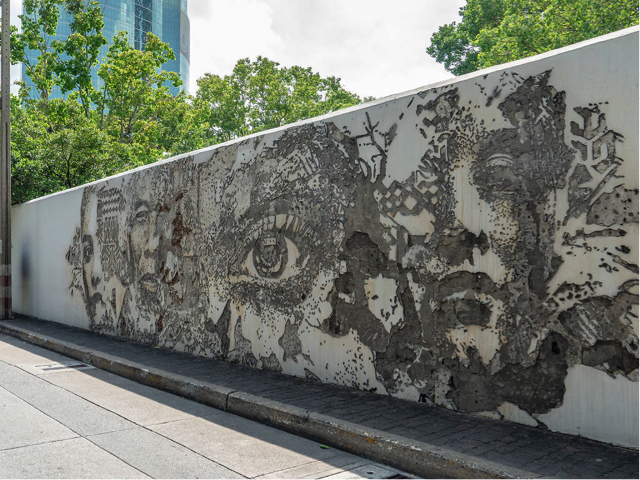 SOI 32
(If you return to WAREHOUSE 30's Soi 30 entrance and walk straight through to the gate at the opposite end at Soi 32 (near the Grand Postal Building) you will find the contribution of the Embassy of Mexico).
Sofia Castellanos
Mexican artist Sofia Castellanos was invited to Bangkok to create a mural to celebrate International Women's Day 2017.Her mural, entitled Mysteries & Magic, brings a piece of Mexican culture to Bangrak. Her choice of bold colors in her rendition of the female figure honoring International Women's Day is set amongst natural elements like the armadillo and butterflies so integral to Mexican culture.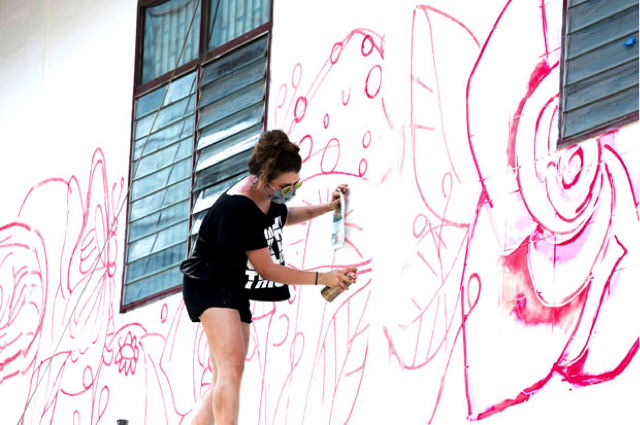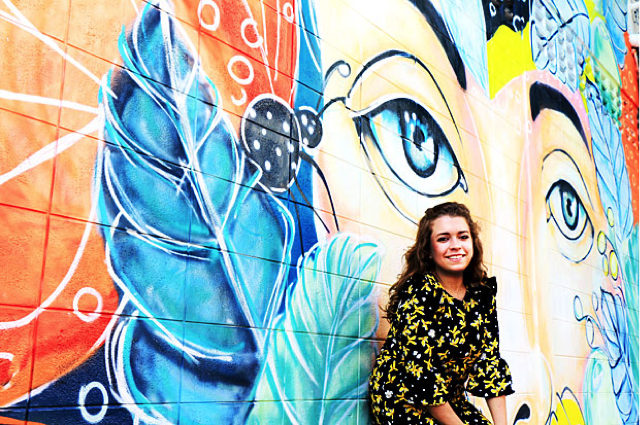 Continue to the end of SOI 32 for MORE!
 (Walk towards the river where the back wall of the Embassy of Portugal has been used by Thai and foreign artists.)
Kult
Thai illustrator/street artist Kult is known for his surrealist portraits using dreamy compositions.
Kult's work shows mysterious looking portraits with blank faces.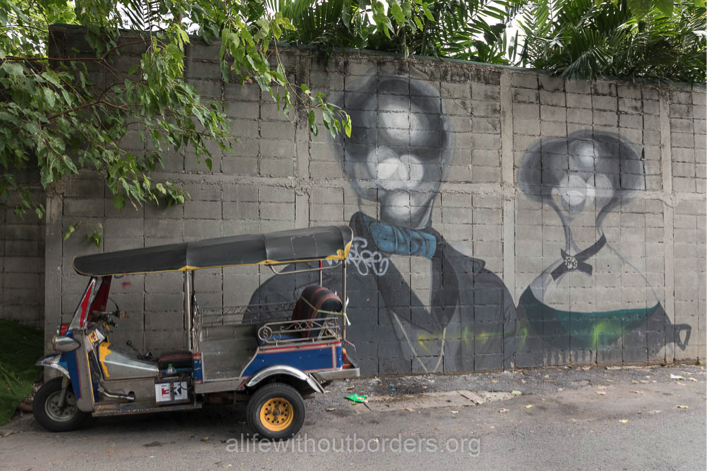 Lolay
An exotic creature lolling in the soi is the work of Lolay, a Thai street artist who also created one of Bangkok's largest modern-day icons: the giant, feminine alien sitting outside the BACC.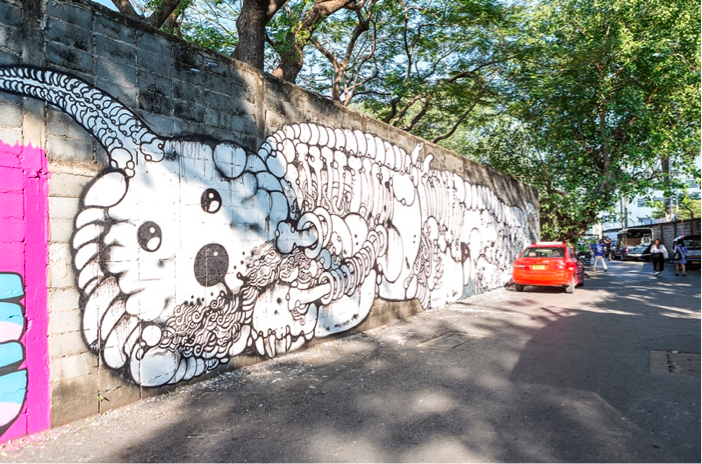 Alex Face
Alex Face is famous for his signature character, Mardi, a three eyed kid in a long eared bunny outfit inspired by his own daughter.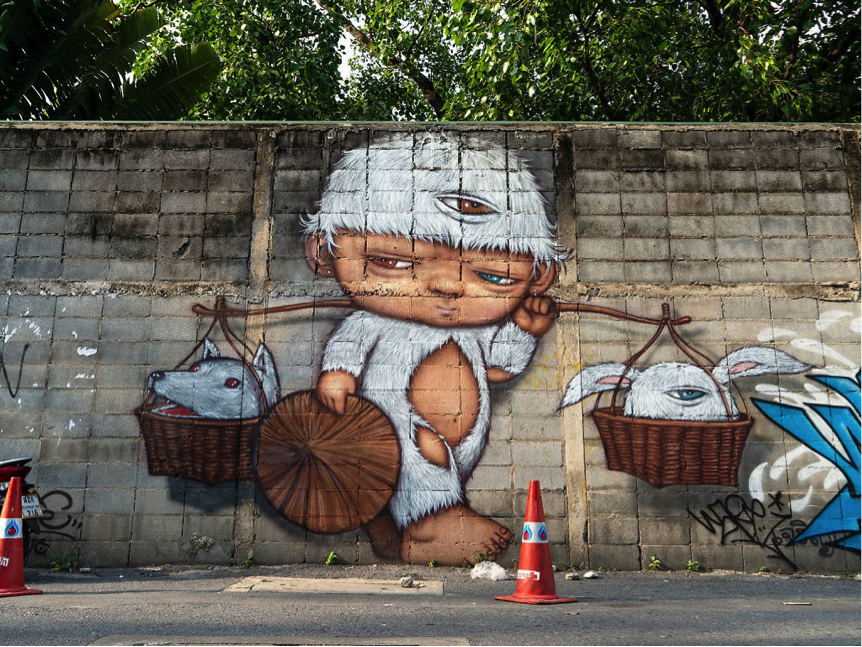 Thibaud Tchertchian
Bangkok based French painter artist Thibaud Tchertchian, started with graffiti and studied in fine art school. His painting of an Octopus blends perfectly on a dirty wall.
Bonus TMC
Bonus TMC paints large-sized animals engaged in surreal activities. There are two here!
Two tigers flying on hammerhead sharks with guns attached to their bodies are busy patrolling the soi.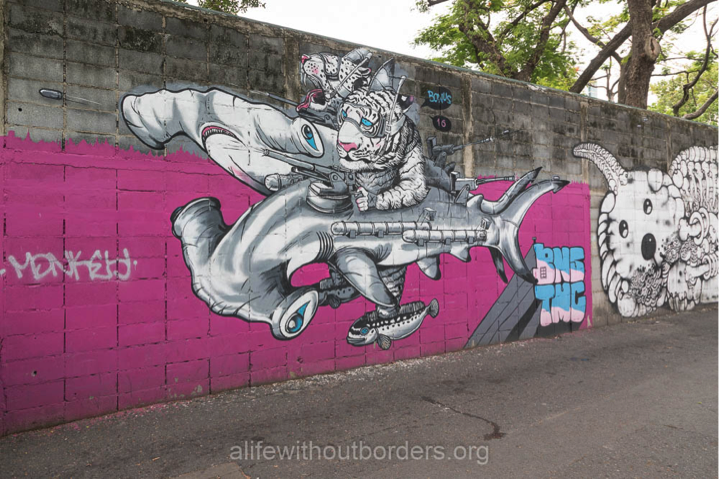 Another of his fanciful murals here features a dog –or maybe some kind of bear– wearing a snorkel and swimming mask. Not only can this guy shoot you with his pistols, he's also going to have a refreshing swim afterwards.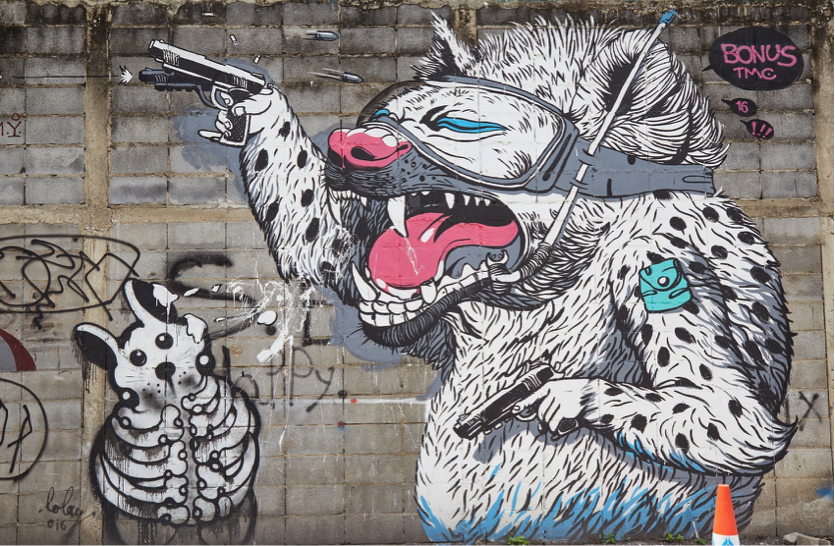 Phai
Phai, is the only Thai female represented here. One observer dubbed this work with a butterfly alight on the gun barrel as Woman on the Hunt.

Sabek
Sabek from Spain began his work in 2000 in the streets and abandoned places around Madrid. where he developed his graffi.  Here he has created something fearful!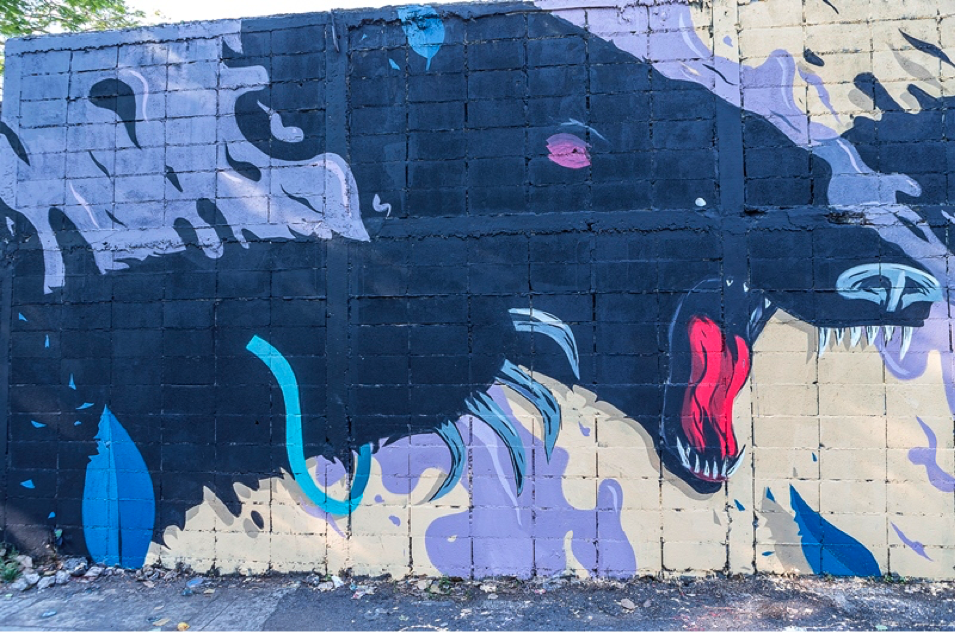 Sakyai
LifeMachine by Thai artist Sakyai seems to be helpful–telling us to ride a bike and live longer?
SOI 28
(While in the neighborhood, why not retrace your steps to Soi 30 and continue walking until you come to smaller Soi 26 which you must enter to find Soi 28. You will find three more urban masterpieces in this lane.)
Meubon
Right at the beginning of the street, you will see a huge painting of Pukruk a colorfully dressed bird riding a unicycle and balancing a bag of groceries. Bangkok-based Meubon (aka Bon for short), is best known for his detailed, vibrant characters,  Pukruk being the most famous.
Daehyun Kim
Just below this huge painting is a black and white mural by Korean artist Daehyun Kim which is part of a series titled Moonassi. It showcases a traditional South East Asian scene featuring intimate small details.,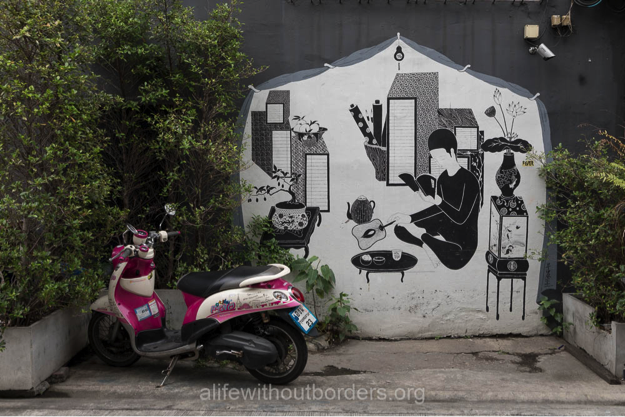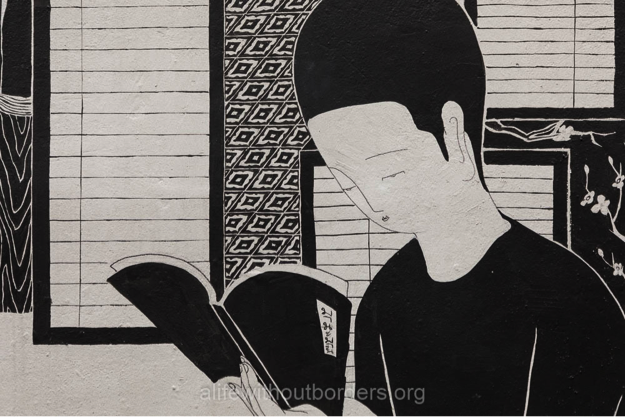 Saddo.
On the building across the street, you'll find a multicolored piece by Romanian painter, illustrator and street artist Saddo. who creates fantastical, dreamlike pieces, often with a folk art feel.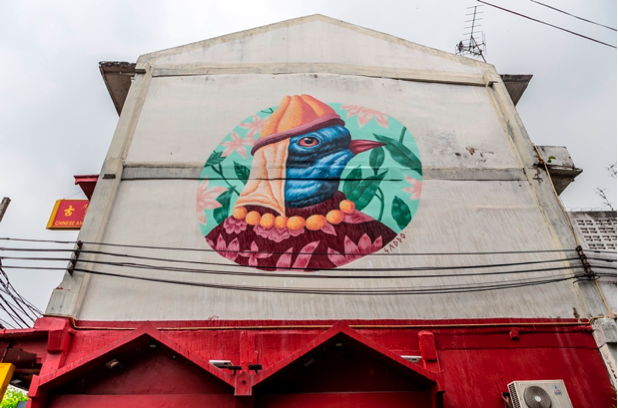 Unknown
And as you continue to explore, you may find the cat and the rat and other unexpected images in the crooks and crannies of this twisting soi!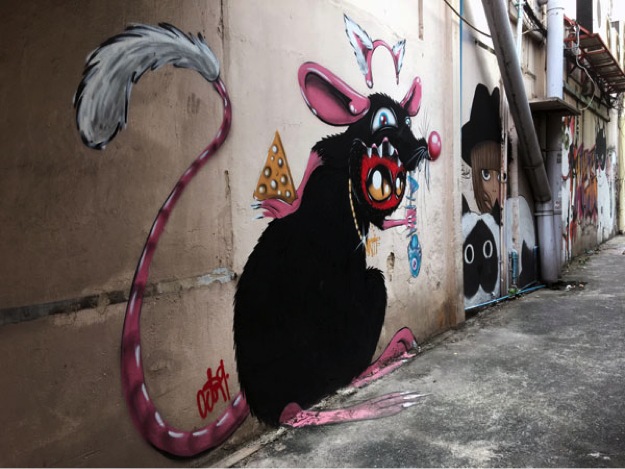 Sources:
https://alifewithoutborders.org/street-art-bangkok-graffiti/
https://www.timeout.com/bangkok/things-to-do/top-spots-to-see-street-art-in-bangkok
https://bk.asia-city.com/city-living/news/awesome-street-art-bangkok-bukruk-festival
http://amandineurruty.com/bukruk-street-art-festival-bangkok/
https://www.bangkokriver.com/place/bukruk-wall-art-walk/
https://toptables.asia-city.com/city-living/news/amazing-street-art-bangkok
https://sailingstonetravel.com/street-art-bangkok/
https://pauldancewriter.com/2019/03/23/the-street-art-of-bangkok/
https://pauldancewriter.com/2019/04/11/bangkok-street-art/
https://www.sanook.com/travel/1397757/